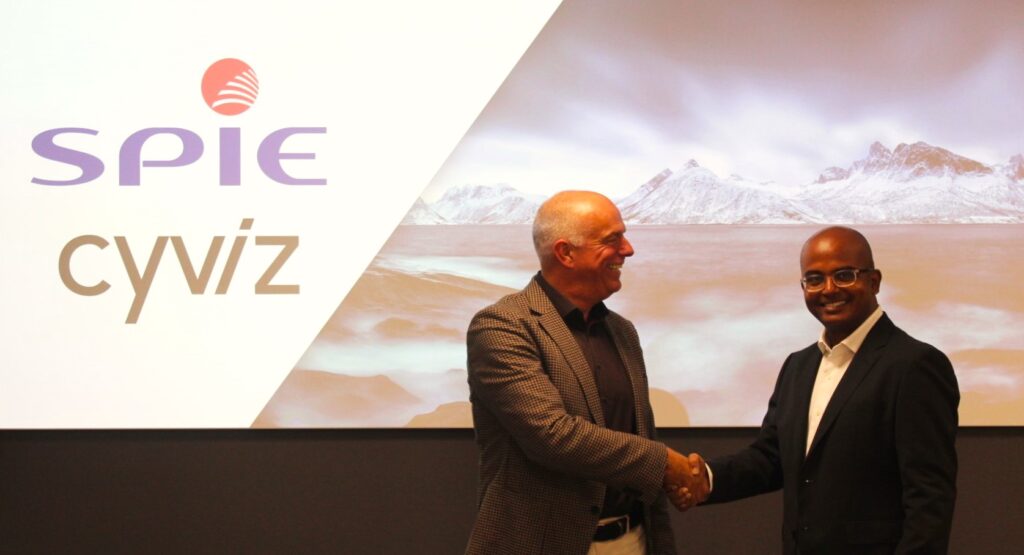 BENELUX, Nederland, 20-Sep-2023 — /EPR AEROSPACE NEWS/ — Cyviz, een toonaangevende leverancier van geavanceerde visualisatie- en samenwerkingsoplossingen met hoge prestaties, heeft in samenwerking met SPIE, een Europese leider op het gebied van multi technische diensten, een complete commando- en controlekameroplossing gebouwd die in staat is om informatie met meerdere classificaties te verwerken.
De opening toonde een totaaloplossing die volledig voldoet aan de Amerikaanse en NAVO Tempest Level B en zelfs een Level A-compliant videowall omvat. De volledig beveiligde oplossing bestaat uit de Cyviz Easy Controller voor het beheer van bronnen en lay-out, meerdere werkstations en een complete TEMPEST netwerkinfrastructuur die betrouwbare en veilige communicatie garandeert.
Espen Gylvik, CEO van Cyviz, zegt: "Cyviz is verheugd om samen te werken met onze partners bij SPIE om gebruik te maken van onze toonaangevende technologie voor dynamische commandocentra en controlekamers. In combinatie met de enorme marktpositie en reputatie van onze partners zal dit geweldige zakelijke mogelijkheden bieden."
De oplossing is al geïnstalleerd in meerdere controlekamers om te voldoen aan de eisen van de klant. Het gecombineerde aanbod van Cyviz biedt optimaal situationeel bewustzijn voor controlekamers die te maken hebben met complexe en kritieke situaties.
Bij de officiële lancering zei Cyviz CCO, Anand Anupam: "Deze joint venture stelt Cyviz in staat om onze toonaangevende technologie te gebruiken om dynamische commando- en controlekamers van TEMPEST-kwaliteit te bouwen; dit is een geweldige aanvulling op ons productaanbod.
Deze verdere uitbreiding toont Cyviz betrokkenheid bij de regio en bij het helpen van organisaties om zich aan te passen aan het veranderende werklandschap.
SPIE Project Manager, Richard Jongejan, verklaarde: "Samen hebben SPIE en Cyviz hun krachten gebundeld om een hoge kwaliteit en eersteklas service te bieden, wat betekent dat we duurzame en toekomstbestendige oplossingen voor onze klanten hebben gecreëerd."
Over Cyviz
Cyviz is een wereldwijde technologieleverancier voor uitgebreide conferentie- en controlekamers en commando- en experience centers. Sinds 1998 hebben we samenwerkingsruimten van een hoger niveau gecreëerd, die zorgen voor inclusieve vergaderervaringen voor zowel persoonlijke als externe deelnemers.
Cyviz bedient wereldwijde ondernemingen en overheden met de hoogste eisen voor bruikbaarheid, veiligheid en kwaliteit. De cross-platform ervaring die Cyviz biedt voor het beheren en controleren van systemen en middelen in de hele onderneming, maakt Cyviz de voorkeurskeuze voor klanten met complexe behoeften.
Ga voor meer informatie naar www.cyviz.com of bezoek een van onze Cyviz Experience Centers in Atlanta, Benelux, Dubai, Houston, Jakarta, Londen, Oslo, Riyad, Singapore, Stavanger of Washington DC.
Cyviz staat genoteerd op Euronext Growth op de beurs van Oslo (ticker: CYVIZ).
SOURCE: EuropaWire